We are now excited to offer a variety of virtual event and show options!
As health concerns continue, more and more companies are starting to replace traditional face-to-face meetings and corporate events with video conference calls and webinars. But, that doesn't mean you need to miss out on the excitement of a live party or event! Learn more about each of our performers and virtual events options below! Give us a call or fill out the contact form to get started!
100% INTERACTIVE BLEND OF MAGIC AND TECHNOLOGY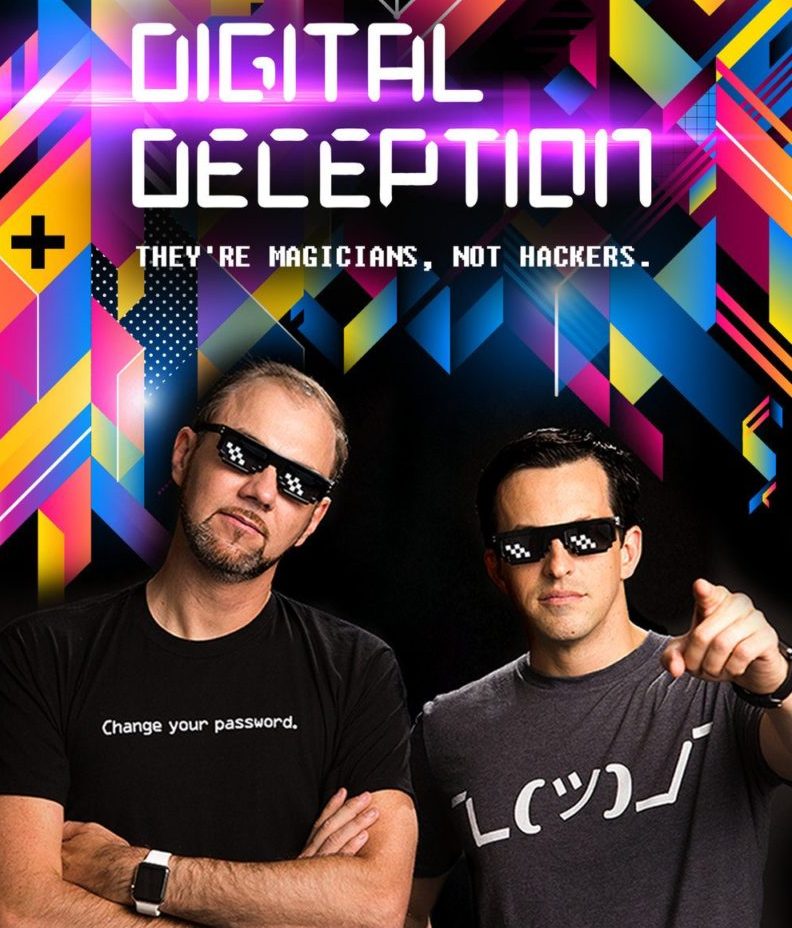 About Digital Deception:
Magicians Doug McKenzie and Ryan Oakes have built an entire repertoire of magic and illusions involving technology. This isn't new for these guys — after all, "Digital" is in their name! No stage? No problem!
About their virtual show:
High-tech wizardry involving text messaging, phone calls, emails, and video, our tech-based duo has built an arsenal of interactive magic that can be presented via any online platform. Featured on CNN Tech, Doug McKenzie and Ryan Oakes' world-renowned blend of tech and magic allows participants to not only watch magic, but experience it firsthand – right on their screens, on their phones, and in their own hands. A unique, shared experience that is suitable for any size group, it's no wonder why savvy companies such as Google, Twilio, and WeWork have already hired Digital Deception to entertain their remote teams.
CYBER MENTALIST – FULLY INTERACTIVE MIND-READING FROM THE REAL-LIFE SHERLOCK HOLMES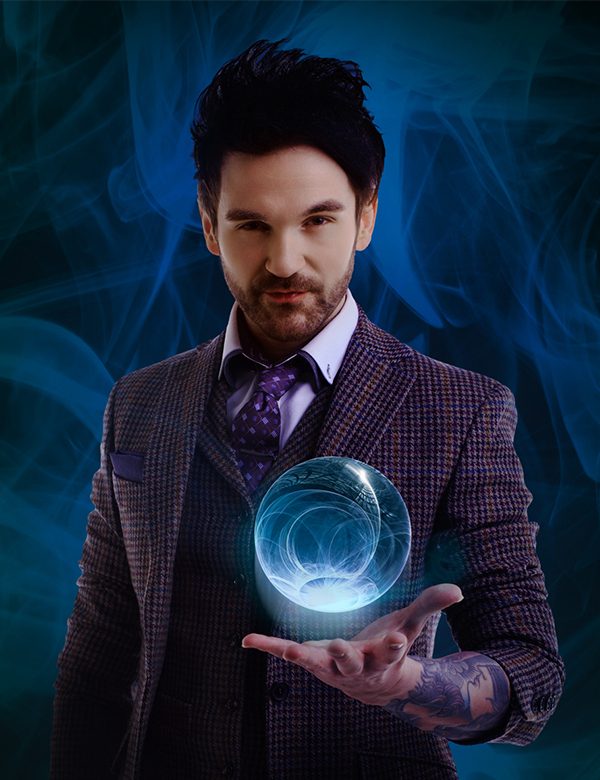 About Colin Cloud:
He'll deduce everything about you, influence you to make specific choices, and have you in fits of laughter along the way. Colin Cloud has captivated the attention and minds of audiences all around the world with his modern and immersive style of mind-reading.
About his virtual show:
Tapping into his experience as a finalist on America's Got Talent, where he would engage audience members through their screens at home during every appearance, Colin has developed impossible demonstrations which showcase your viewers as the stars of the show. Colin was also just awarded #1 Online Virtual Magic/Mentalism Show for 2020
CAMERA TRICKS: A VIRTUAL MAGIC EXPERIENCE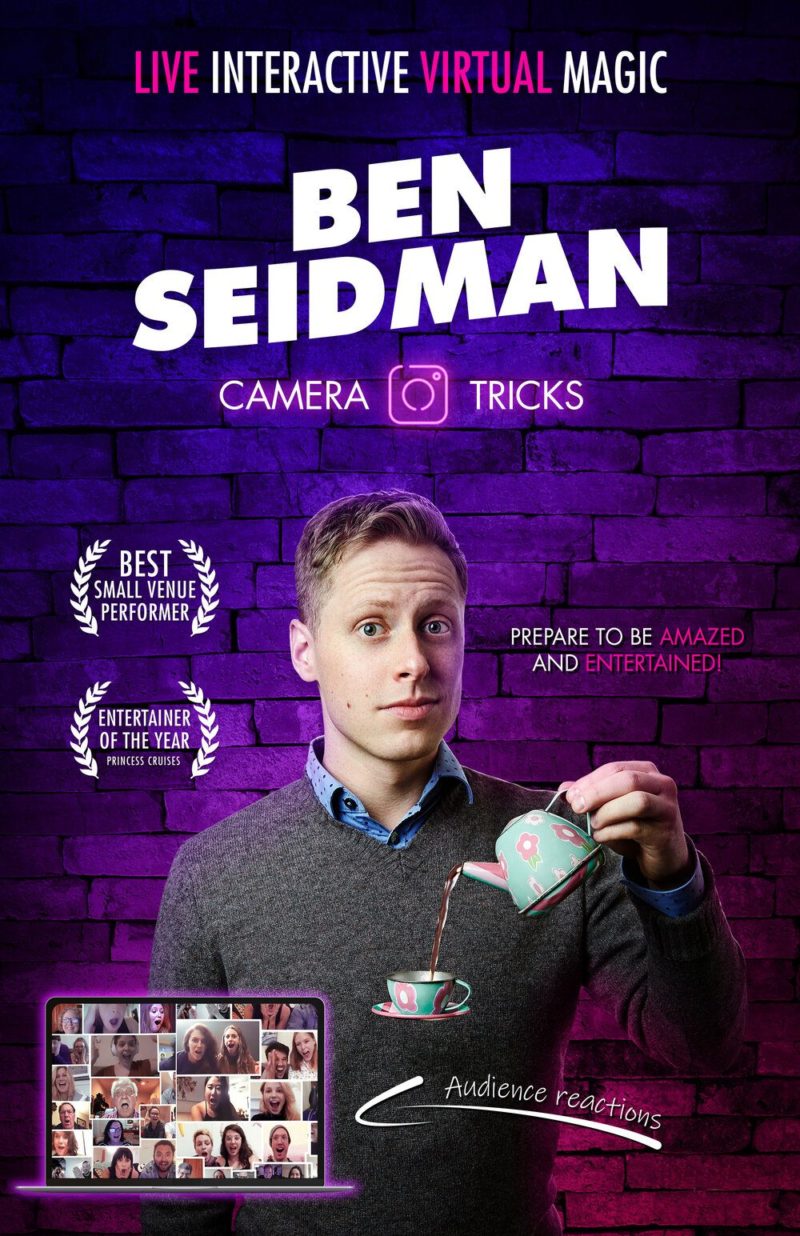 About Ben Seidman:
Magician Ben Seidman has been featured on Netflix, Travel Channel, and the CW Network – but today, he's performing in your living room. Seidman's virtual show CAMERA TRICKS is an engaging and interactive magical experience, packed with mind-blowing sleight of hand and hilarious audience exchanges. Every magical moment will make your jaw drop, but there's a catch… one single moment in the show uses a camera trick.
About his virtual show:
Can your group spot which illusion is the fake? Or does Seidman's magic actually rival camera trickery?! This fun hook is a fantastic way to engage your audience and CAMERA TRICKS comes full circle with two different twist endings! The result is a delightful and awe-inspiring program that will remind your group that there is still magic in the world.
STANDUP MAGICIAN: COMEDY MEETS ASTONISHING MAGIC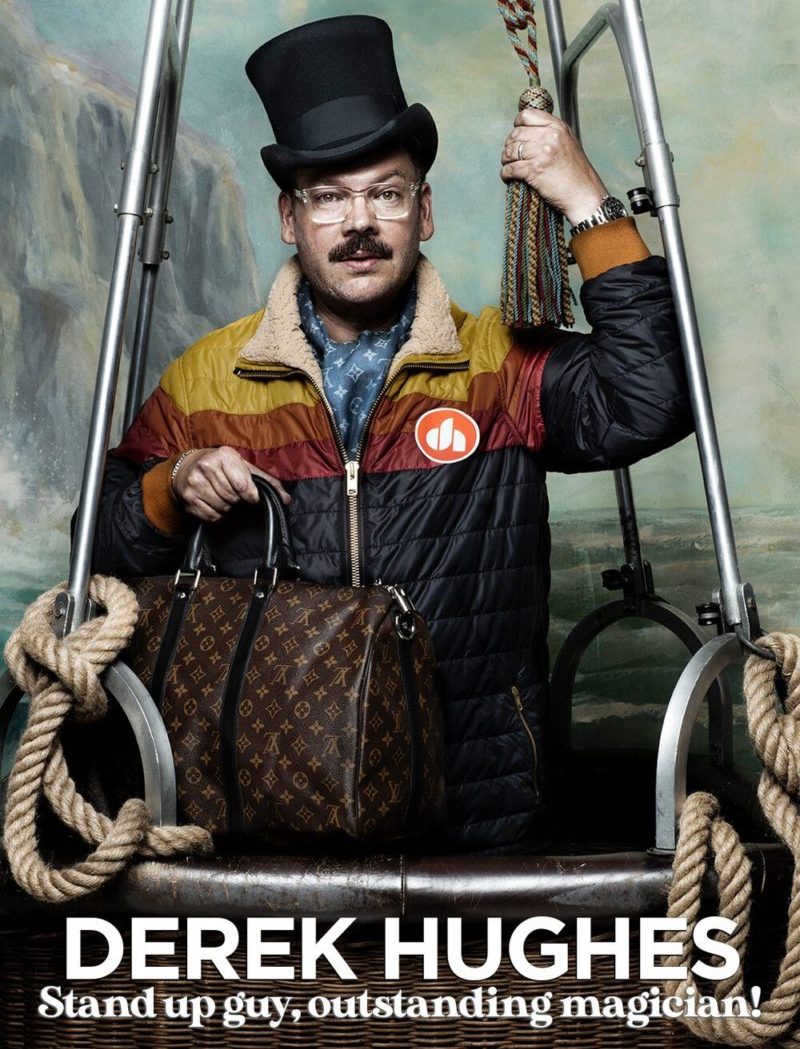 About Derek Hughes:
Standup Magician™, Derek Hughes, is an award winning magician and expert improviser with a gift for finding humor within any group's dynamic. Hughes' loveable sarcasm and warm charisma have paved the way to appearances on The Ellen DeGeneres Show, Penn & Teller: Fool Us!, and NBC's America's Got Talent, where he was the only comedy magician ever voted a top ten finalist.
About his virtual show:
In his virtual show packed with astonishing moments that viewers experience firsthand through their screens, Derek is the refreshing through-line, keeping everyone energized and smiling during your next online event. In times of uneasiness laughter is an unbeatable stress reliever, and if laughter is the best medicine, then Derek Hughes is just what the doctor ordered.
(VIRTUAL) MICHAEL CARBONARO LIVE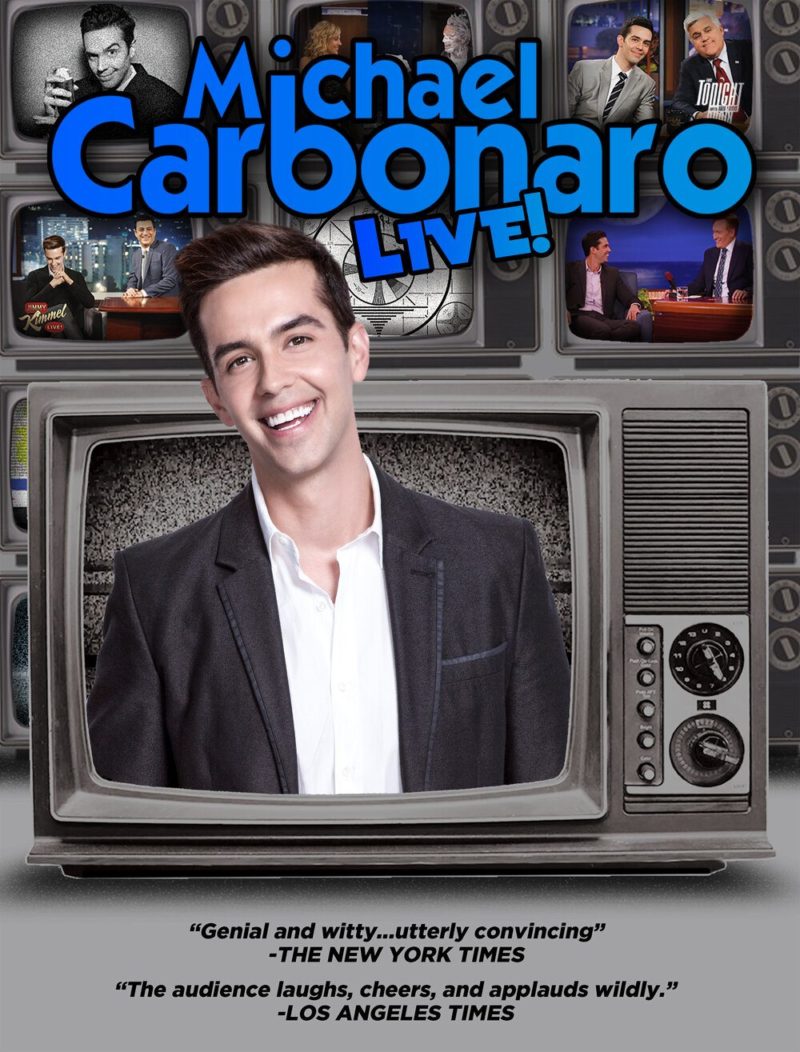 About Michael Carbonaro:
Picture this – Michael asks one of your random virtual guests to think of ANY number. Suddenly, he reveals that very number tattooed on his arm… along with your random guest's NAME!
The star of the hit hidden-camera series, THE CARBONARO EFFECT on truTV and his multiple appearances on NBC's, THE TONIGHT SHOW, Michael Carbonaro is best known for performing inventive tricks on unsuspecting members of the public who are unaware that he is a magician. Carbonaro's illusions – along with his devilishly absurd, matter-of-fact explanations – leave real people bewildered and families at home laughing out loud.
About his virtual show:
Obviously no stranger to performing on camera and blowing the minds of everyday people, Michael Carbonaro is knocking the socks off of socially distanced groups and gatherings with a completely interactive LIVE virtual magic experience packed with amazing magic, strange occurrences, and his signature straight-faced hysterical explanations. Whether he's using "heat transference" from an attendee's finger to melt metal as they touch their screen, or teaching a magic "house-hold hack" to actually make a live fish appear, your guests will finally get a chance to directly experience Michael Carbonaro and his incredible, magical… EFFECT!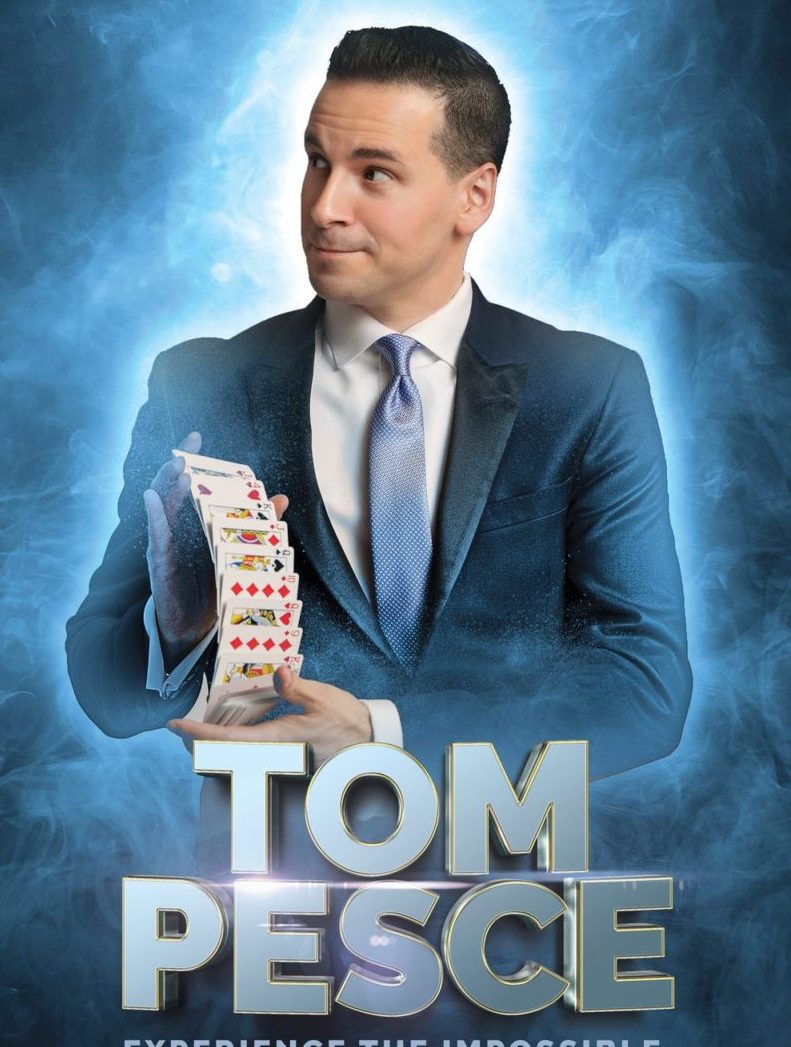 About Tom Pesce:
Known for combining his unique brand of fast-paced, "high-octane" magic with his genuine ability to connect deeply with any audience, Tom Pesce's virtual show is a brand-new, interactive experience that happens LIVE anywhere there's an internet connection.
About his virtual show:
Each show is custom designed specifically for your group and includes professional lighting, sound, multiple HD camera angles, 100% family friendly content, and mind-splitting magic that looks like it must be done using camera tricks… but isn't! Tom involves various spectators throughout the show and will even teach a trick that everyone will be performing in a matter of minutes!
A VIRTUAL EXTRAVAGANZA STARRING THE GREATEST MAGICIANS FROM TV!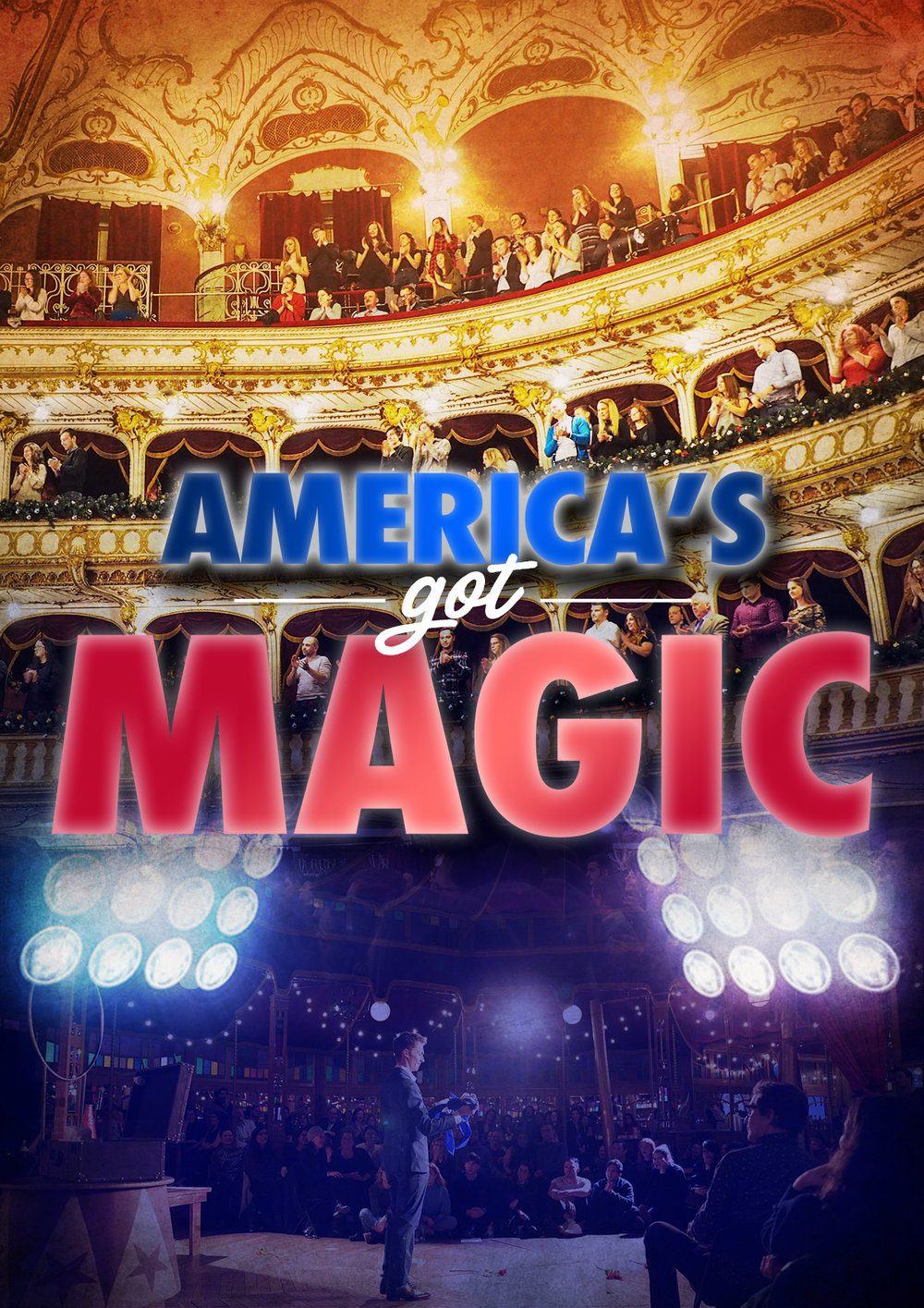 About "America's Got Magic":
America's Got Magic is an exciting compilation of the world's greatest magicians, illusionists, and mind readers – streamed LIVE in the comfort of your living room! Direct from your favorite television shows like America's Got Talent, Penn & Teller: Fool Us, and The Ellen DeGeneres Show, these mind-blowing and hilarious stars are teaming up to present an amazing buffet of live, virtual magi.
About the virtual show:
This virtual extravaganza features amazing magic that viewers get to interact with, directly through their screens! Perfect for holiday parties, galas, award receptions, and other company celebrations, America's Got Magic promises to leave guests raving about this new and unique theatrical experience that will have them sitting on the edge of their couch!
The World's Foremost Mentalist Duo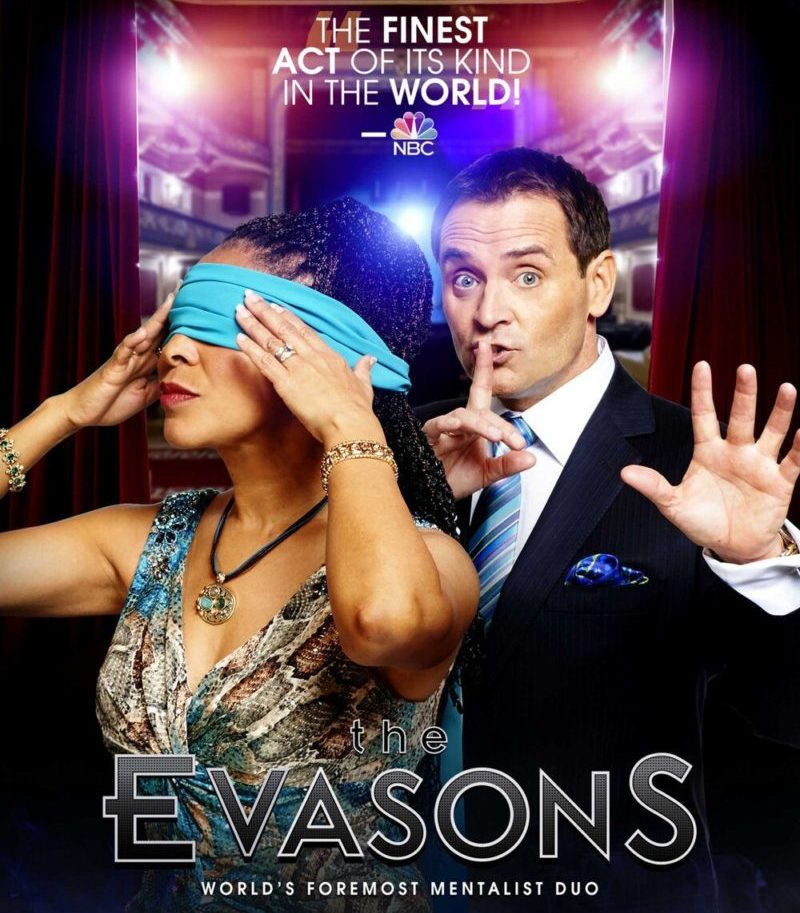 About The Evasons:
The Evasons are one of very few married couples in history who have mastered the rare and specialized artistry of two person telepathy known as "Second Sight." With featured appearances on NBC, CBS, CW Network, Discovery Channel, and Netflix, it's no wonder why The Evasons are the most in demand act of their kind, anywhere in the world. One of the most awarded performers in their field, The Evasons were the only mentalists ever to receive the "SARMOTI Award" presented by legendary magicians, Siegfried & Roy, to their favorite act in Las Vegas.
About their virtual show:
In this interactive, live, virtual performance, your guests will not just sit back and watch the show… in no time, minds will be blown, jaws will drop, and audible gasps will fill the room in this incredible and exhilarating demonstration of Second Sight and telepathy. Let your hair down and take a "virtual vacation" with The Evasons as they reach through the screen and seize your thoughts in this high-energy, fun escape from reality that you will certainly never forget.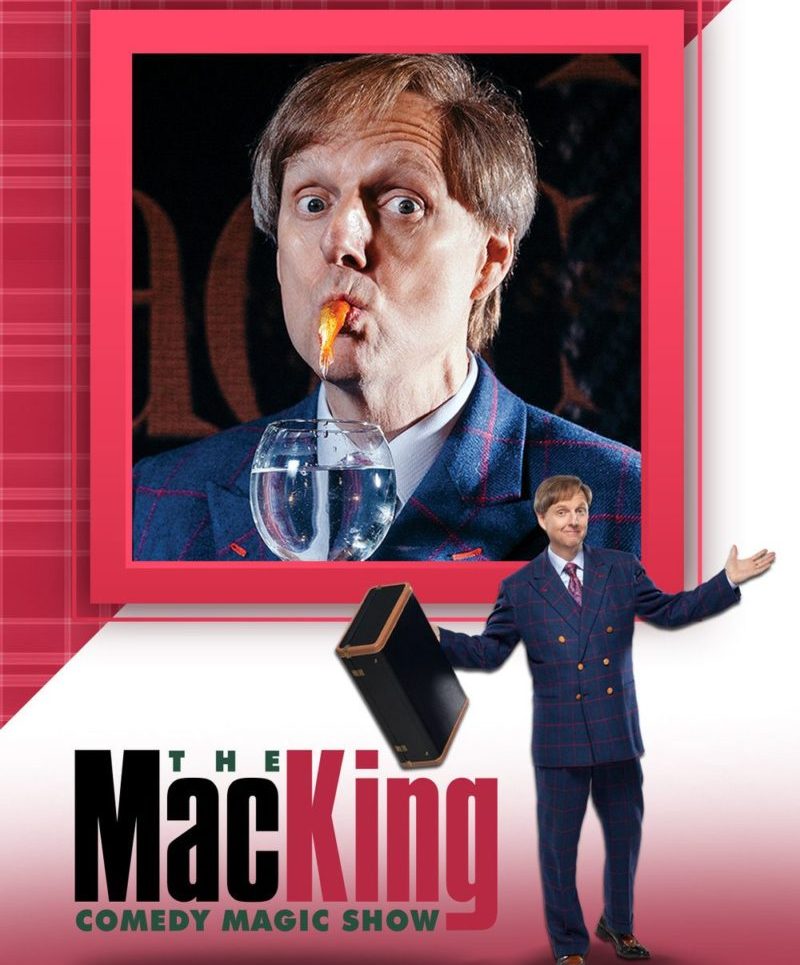 About Mac King:
Get ready for a mind-blowing and hilarious live entertainment experience like you've never seen, as Las Vegas' #1 comedy magician streams interactive and exciting illusions directly to your living room via Zoom. Your host for this one-of-kind magic experience is Mac King, the Las Vegas legend who, with his quick wit and captivating magic, has wowed audiences for more than 20 years. Penn & Teller have called him "the greatest comedy magician alive today."
About his virtual show:
Now, for the first time ever, King invites you into his real-life home for a sidesplitting, interactive LIVE streaming experience that takes place in just about every room of his house… even the bathroom! Leave what you think you know about magic at the door as Mac King's House-O-Magic brings incredible family fun, that will keep you buzzing for days, direct to your home.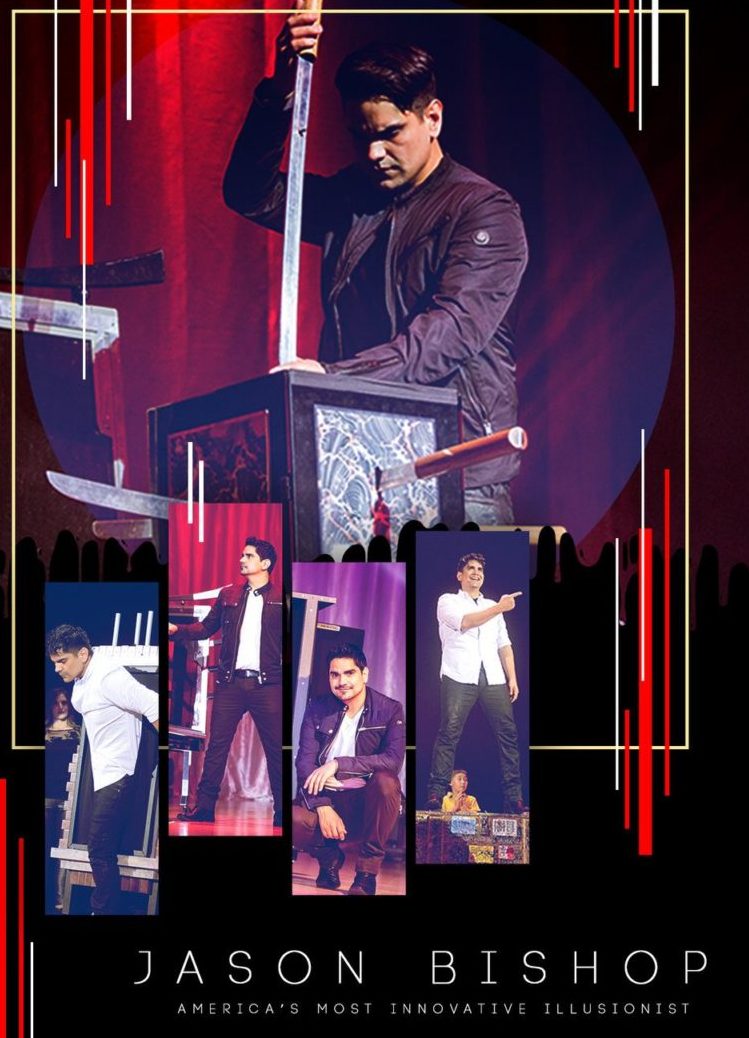 About Jason Bishop:
Jason Bishop brings his acclaimed and raved reviewed magic to a new platform with the same jaw dropping results. Bishop toured the globe both with his technologically innovative large-scale illusions, as well as his stunning intimate magic involving audience members. Each of Bishop's shows feature award-winning sleight of hand, and a lightning fast comedic wit. He's been called "The thinking man's Magician" and The New York Times said "There's real elegance and even wit in the precision of his gestures, the agility of each finger".
About his virtual show:
In his virtual performances, Bishop entertains with select close-up illusions and interactive sleight-of-hand from his sold-out runs in New York City, stunning and amazing even the most discerning clients right through their screens.
CYBER GAMES OF MIND TO MIND CONTACT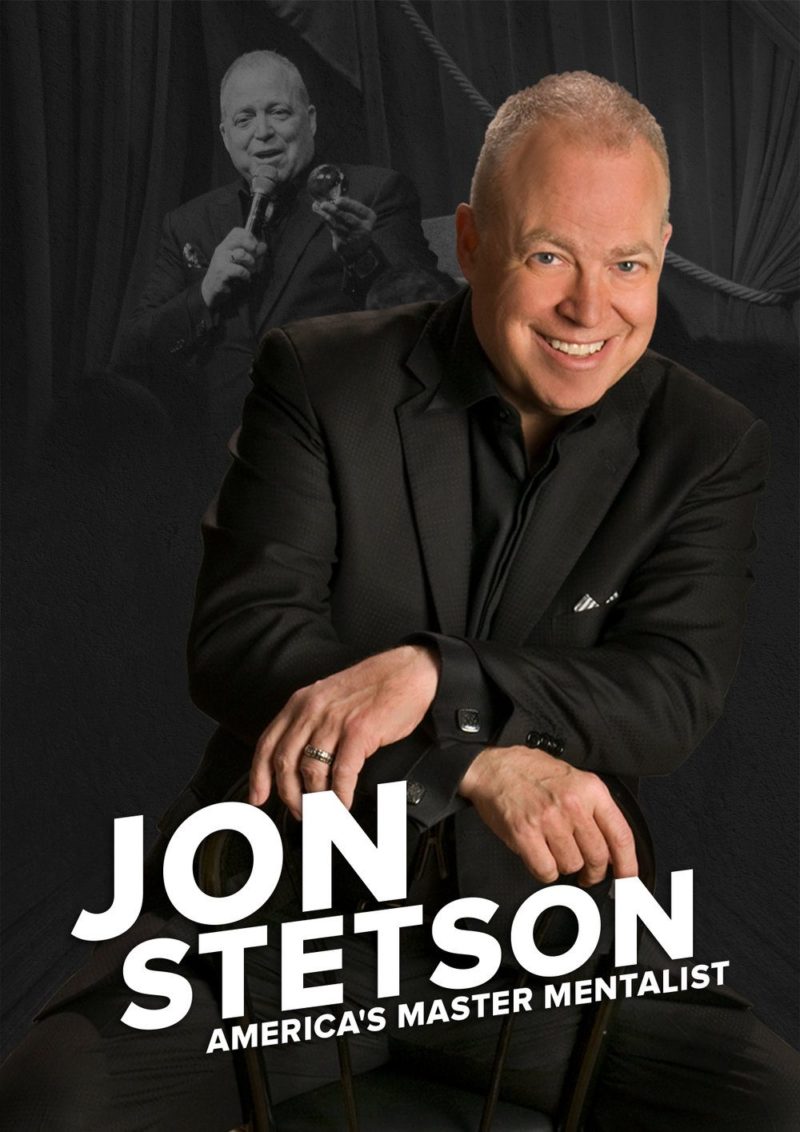 ng!About Jon Stetson:
Jon Stetson is America's Master Mentalist. The inspiration for the CBS television series, "The Mentalist," Stetson blends the art of Mystery with the study of Psychology, the predictability of human nature, and the power of intuition, with a disarming and uproarious sense of humor. Jon has appeared at hundreds of corporate, private, and celebrity events with performance for the King of Sweden, The Prince of Wales, The Royal family of Monaco, and the White House on five occasions.
About his virtual show:
Even virtually, "The Stetson Experience" is an intelligent, interactive, sophisticated, and fun virtual show with Stetson reaching through the screen and effortlessly plucking your thoughts over the web and under the most impossible conditions. Mind Reading has never been so engaging!
A MAGICAL MASTER CLASS FOR EVERYONE!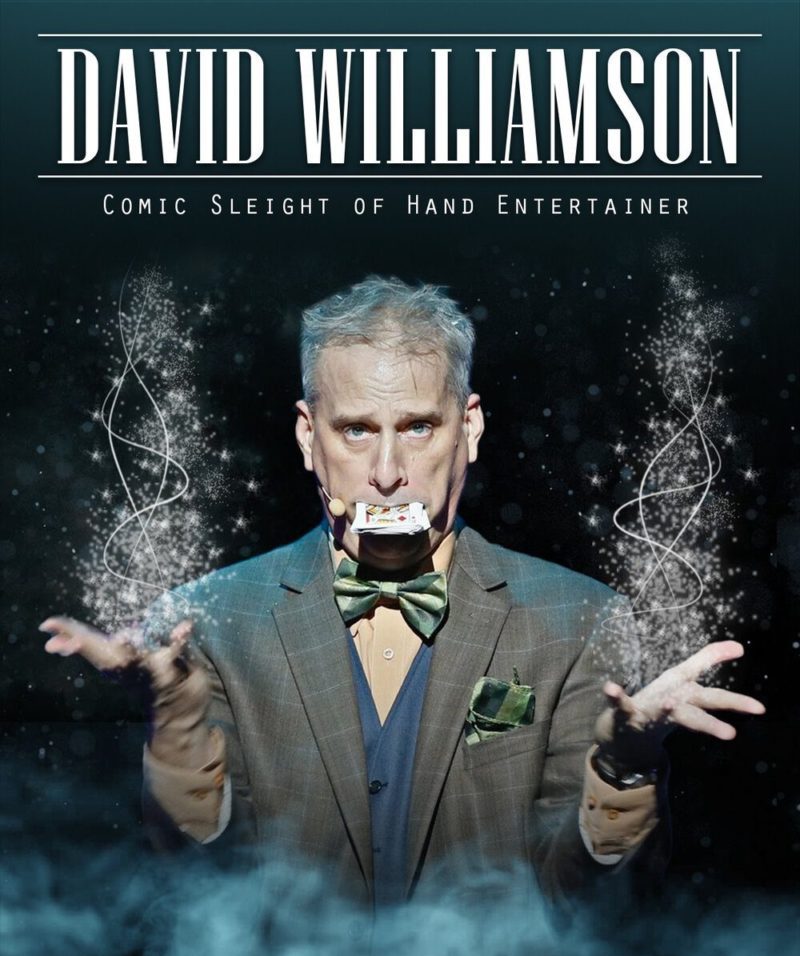 About David Williamson:
Considered to be one of the most talented, hilarious and multifaceted magicians in the world, David Williamson is a born showman and an unusually accomplished sleight-of-hand artist, capable of capturing the imagination of any audience. Along with his many network television appearances on shows such as NBC's America's Got Talent, CW Network's Masters of Illusion, and CBS' Magicians Favorite Magicians, David Williamson's uniquely electric style has led to headlining performances around the globe from frequent appearances on Disney Cruise Lines to the role of ringmaster on the smash-hit tour, "Circus 1903," to Broadway, where he recently starred in "The Illusionists."
David Williamson is among the most highly regarded practitioners of his craft and the recipient of the highest accolades from his peers, named "Most Wanted Magician" at magic conventions and "Magician of the Year" by Hollywood's prestigious Academy of Magical Arts on multiple occasions. Now is your chance to learn the tricks and tools to amaze and spread wonder from the man that other magicians regard as the best in their industry!
About his virtual magic class: In this magical Master Class, David Williamson teaches an assortment of mind-blowing feats with items found around the house that will instantaneously make you the hit of any room. Whether you are 8 or 80 years old, Williamson's approach to teaching magic magic is fun, easy to follow, and is guaranteed to have you amazing family over dinner or breaking the ice at the next company meeting.
THE EXPERT AT THE CARD TABLE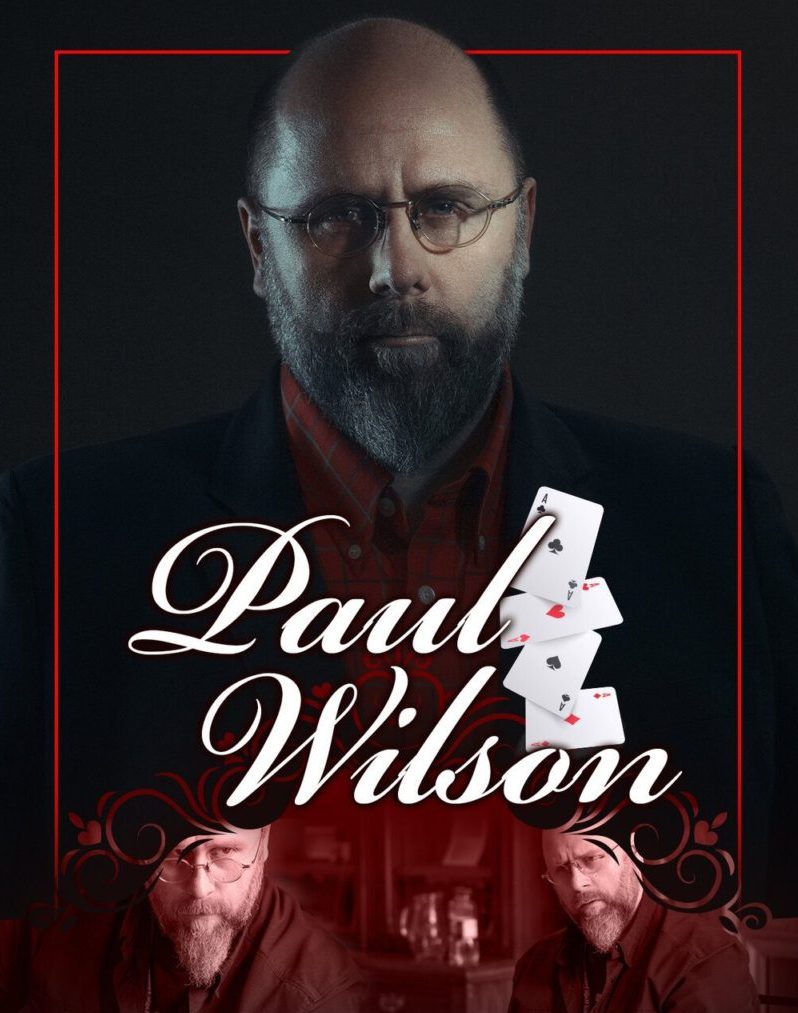 About Paul Wilson:
When casinos suspect they have a con-artist at the poker table, they turn to one man for help… Paul Wilson. Star of the BBC hit show, The Real Hustle, History Channel's Scammed, and Court TV's The Takedown, Paul's expertise in fraudulent gambling methods is frequently tapped by agencies such as the FBI as well as movies and TV shows including Shade, Smoking' Aces, Hustle, and Now You See Me.
About his virtual how:
Now you can see Paul in this live demonstration where he will deal from the bottom, switch decks, mark cards, switch in loaded dice, and share the psychology behind how anyone might get suckered. In this unique, interactive presentation, Paul will reveal top-secret techniques used by today's card cheating pros and answer your questions, proving that anyone who thinks they can't be taken… is the perfect target.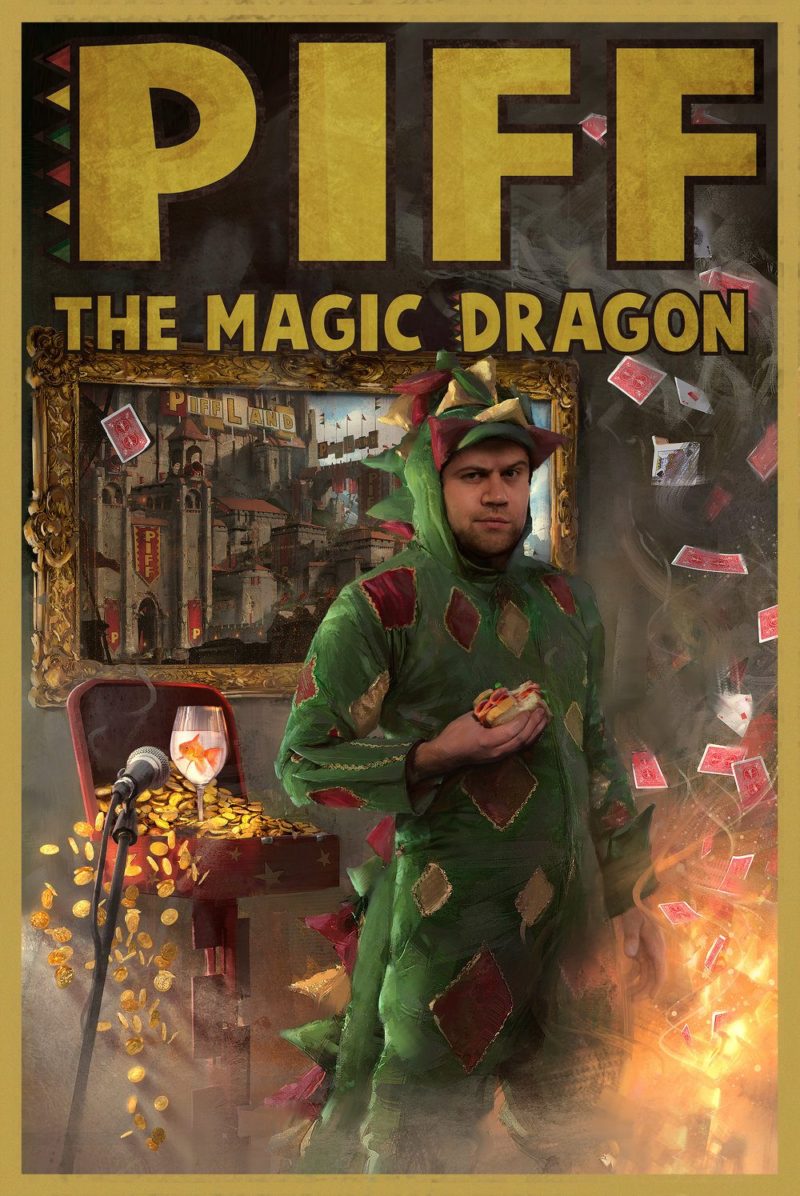 About Piff The Magic Dragon:
Think Larry David in a dragon suit performing jaw-dropping magic tricks and you've got Piff The Magic Dragon! With over 100 million online views, feature performances on NBC's America's Got Talent and Penn & Teller: Fool Us, and a record-breaking residency at the Flamingo Hotel on the Las Vegas strip, Piff the Magic Dragon has proved he's here to stay. Joined by Mr Piffles, The World's Only Magic Performing Chihuahua™, the dynamic duo have performed all over the world in iconic venues from Radio City Music Hall, to the Sydney Opera house.
About his virtual show:
Now's your chance to experience Piff's all-new hilarious and interactive magic show from the comfort of your home! Piff the Magic Dragon: Live from Las Vegas is a live, virtual performance coming directly from Piff's personal studio (formerly his single car garage), taking his trademark magic to new heights in this new show created exclusively for online viewing with magic tricks happening in your hands and homes. Host the star of America's Got Talent and Las Vegas' "Best Headliner," "Best Comedian," and "Best Magician" in your guests' very own living rooms.