THE FORENSIC MINDREADER
COLIN
CLOUD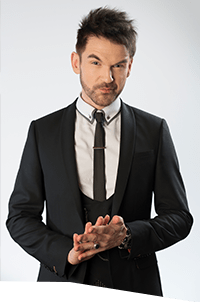 THE FORENSIC MINDREADER
COLIN
CLOUD
Colin's award-winning act will leave your guests inspired, astounded, and mesmerized – importantly, embedding your event in their memory for a very long time, quite probably forever.
He'll know what you had for lunch, where you've been that day, what you do for a living, the car you drive, even your PIN code. He'll read you like a book. Regarded as one of the world's leading corporate entertainers, Colin Cloud has built a reputation based on his ability to incorporate any message into a remarkable and engaging experience with takeaways that can be put to use in the real world. I've seen him spread some cheer or impart customized content; he's visual, hugely entertaining and funny – he won the Best Improv/Variety/Sketch comedy awards in 2017. His astonishing finale will involve the entire audience in a deductive demonstration of epic proportions. His presentation challenges the way we all think about the world and has been described by many as positively life-changing.
- Simon Cowell
"We could rule the world together."
- Edinburgh Festivals Guide
"Cloud is Benedict Cumberbatch's Sherlock Holmes in the flesh - with an added dash of charm."