THE FORENSIC MINDREADER
COLIN
CLOUD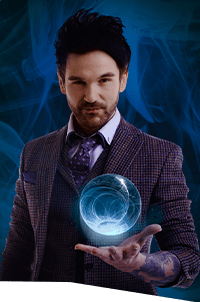 THE FORENSIC MINDREADER
COLIN
CLOUD
INVOLVE, INTEGRATE AND ENGAGE YOUR ENTIRE AUDIENCE.
Described as the closest thing to a real-life Sherlock Holmes, Colin's award-winning act will leave your guests inspired, astounded, and mesmerized – importantly, embedding your event in their memory for a very long time, quite probably forever.
He'll know what you had for lunch, where you've been that day, what you do for a living, the car you drive, even your PIN code. He'll read you like a book, and he's sure you're going to be a compelling read.
Colin graduated from university at the age of 20 with an honours degree in Forensic Investigation. Now regarded as one of the world's leading corporate entertainers, Colin Cloud has built a reputation based on his ability to incorporate any message into a remarkable and engaging experience with takeaways that can be used to advantage in the real world.
We've seen him spread some cheer or impart customized content; he's visual, hugely entertaining and funny – he won the Best Improv/Variety/Sketch comedy awards in 2017.
Cloud has appeared on stages, and TV shows all across the globe. He's performed for celebrities, royalty, politicians and for the world's leading companies and organizations.
Cloud's mind-blowing presentation challenges the way we all think about the world and has been described by many as positively life-changing.
Everyone in the audience is invited to be a part of a remarkable and purposeful experience which culminates in an astonishing finale of epic proportions.
- Simon Cowell
"We could rule the world together."
- Edinburgh Festivals Guide
"Cloud is Benedict Cumberbatch's Sherlock Holmes in the flesh - with an added dash of charm."